Strategic Security Is Ready for Immediate Emergency Response and Deployment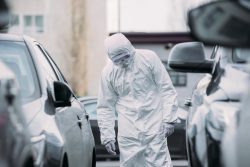 Strategic Security Corp's expert-trained security guards and crisis management teams are standing by to deploy. We can assist with managing any natural, civil, pandemic or technological disaster or terrorist attack anywhere within the country.
Strategic Security Corp is a current contract holder for the NYC Office of Emergency Management and can provide turnkey basecamp operations. Strategic Security Corp is also a U.S. Department of Homeland Security FEMA contract holder through a FEMA BPA.
We are proud of our track record and reputation with FEMA. Our armed guards have rapid-deployed in response to Presidential Disaster Declarations in Alabama, Louisiana, Alaska, Hawaii, Puerto Rico, West Virginia, Texas, Florida, Georgia, North Carolina, South Carolina, Tennessee, California, Mississippi, New York and New Jersey.
Our Capabilities in Emergency Response Services